Koi pond cleaning Bethesda, MD
Nice looking koi pond with UV lights to prevent string algae. We added a net to prevent leaves from falling inside the pond during the fall.
Hauling 5000lbs of crap out of a huge pond in Woodbine, MD.
When a pond is left to sit for over a decade plants you initially put in for decoration and filtration quickly outgrow their pots and take over the pond. Soil from rain runoff is the cherry on top and your pond has successfully transformed into a wetland marsh. You can say bye to your fish as they will never be visible again.
Overstocked koi pond in Severna Park
This rectangular koi pond was 3 feet deep and equipped with a Pondmaster pressurized filter. These filters also come equipped with uv lights that deter algae growth. Birds of prey such herons and storks cannot reach fish in deeper water. Deeper water will also accrue less algae as it minimizes the sunlight's rays.
Baltimore city pond company
We are familiar with the close quarter housing common inside the city. We have enough hose to drain the water far away from your property. We can even drain it into your neighbor's yard if you'd like.
Tub pond renovation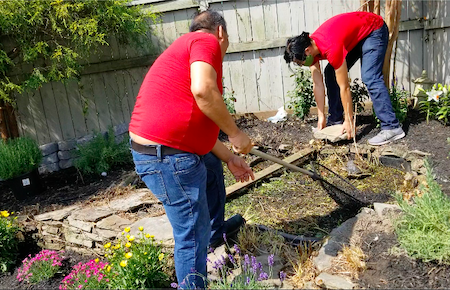 Thanks to the landscaper who decided to trim a tree into this pond we were able to come and rescue it. We even found a dead decomposing song bird inside that smelled terrible. In this video we added Pennsylvania mountain stone along the edge of the pond. This made the pond look more natural by hiding the plastic.
Koi pond renovation
While renovating this koi pond we had to remove a tree root that had grown overtop of the liner. This caused a leak in the pond and was bad for the aesthetics of the waterfall.
Yellow Butterfly koi relocation
Our client wanted his neighbor's koi so we got out our jumbo fish net and waders and went to work. Catching koi without draining the pond is a major headache but at the end we were able to safely transport 5 healthy 16 inch butterfly koi to our client's backyard koi pond.
Koi pond construction
A koi pond can help relieve stress from a long day at work. Grab a beer and listen to the waterfall while observing your koi swim around and do koi things.
Repairing pond edge
Over time the ground supporting your pond edge can lose its strength and crumble. This can cause leaks and gives your pond an uneven look. It will also decrease your pond's maximum water capacity which will result in your pond getting dirtier quicker.
Pond plants
Water lilies provide cover from the sunlight which reduces algae growth and water discoloration. When servicing a pond we can save your aquatic plants and replant them at the end of the job.
Small backyard water feature in upper Baltimore
A small pond is limited in the number of fish it can house but can have the same soothing effect as larger water features. This pond was built near a lot of vegetation which was removed and hauled away from the property.
Mechanical filtration
Mat filters clean your water by physically trapping waste particles and debris. They are also the breeding ground for beneficial bacteria which convert harmful ammonia (released from fish waste and organic matter) into nitrates.
Testing water before cleaning a koi pond
Drastic changes in water paramaters can be harmful to your koi. We take preventative measures to ensure your koi experience the least amount of stress while we are servicing your pond.
Installing an Acuascape AquaSurge 3000 GPH Pump
In addition to cleaning ponds we also do pump replacements, submersible lights, and repairs/renovation. In this video June is installing a new Acuascape AquaSurge 3000 GPH Pump in Columbia, MD. The pump wire is buried underground and inserted into your outdoor-rated GFCI outlet.
Deep cleaning a koi pond in Glen Burnie
When cleaning a koi pond we first check to make sure your water paramaters aren't drastically different. We test for things such as ph, water temperature, and chlorine to ensure fish safety. Based on these results we can determine whether to do a 100% water change or not. In this video, June is cleaning the bottom filters inside the pond. This allows us to drain all the muck out with the remaining pond water. Clean filters will increase water flow which will increase overall filtration.
Pond Cleaning Baltimore
For ponds with no fish we do a 100% water change to achieve crystal clear water by the end of the job. In this job we had to drain the backyard pond into a storm drain in front of the house. We carry over 1000 feet of hose so that we can reach a storm drain or a forest in your vicinity.
Removing 500 lbs of water lilies in Bowie, MD
Excessive aquatic plants are a common problem among ponds. Lilies, irises and cattails are known to take over ponds as they multiply very rapidly. Although plants provide filtration and oxygen for the fish, too many can hurt the aesthetics and the ecosystem of the pond. In this video, we had too remove the lilies because they took up too much real estate and clogged up the pond. Overall water volume is very important in keeping your pond clean so removing these plants made room for more water.
Relocating Koi into aerated holding tanks
We are masters at handling koi and guarantee their health for the entirety of the job. In the following video June safely catches the fish with a large net and relocates them to an aerated holding tank near by. We slowly acclimate the koi during the cleaning to reduce their stress when reintroduced back into the pond.